Visiting Mongolia is one thing, but horseback riding in the steppes of the country is a completely different experience. There is no better way to explore the vast landscapes and experience the Mongolian way of life than to do in on horseback riding. Not to mention the feeling of freedom gained by the trek, and the best part, even the most novice raiders can afford to live this unforgettable experience!
WHY HORSE-RIDING IN MONGOLIA?
 
Mongolia is famous for its many wild horses, and for that same reason, most Mongolian nomads make it their main means of transportation! To discover Mongolia on horseback is to put yourself in the skin of its inhabitants and live their daily life. Thus, every evening, after having traveled kilometers during the day, you will find refuge in the yurts and shared privileged moments with the local nomads.
Horseback riding is the perfect opportunity to appreciate the beauty of the landscapes of Mongolia such as vast steppes as far as the eye can see, tall mountains, green forests, silent sand deserts, clear waterfalls, and volcanic landscapes. Horseback riding among Mongolian nature will leave you speechless since it allows you to cross rivers and discover forests that are inaccessible by car.
HORSE-RIDING FOR BEGINNERS
Do you have very little or no horse-riding experience? Do you have very little or no horse-riding experience? Do not panic, many trips are accessible to beginners, and if it makes you feel better, the Mongolian horses are very small, similar to ponies. That said, they are very enduring horses and very easy to manage. In any case, the guides are there to teach you and get familiarized with the horses. If it's needed, they can even take care of the children by getting them on their horses. You can even take lessons before your departure to test your equestrian abilities! Anyway, the trips are at a slow pace, but nothing prevents the most experienced people from forming a small group to try trotting or galloping!
WHICH TRIP SHOULD I CHOOSE?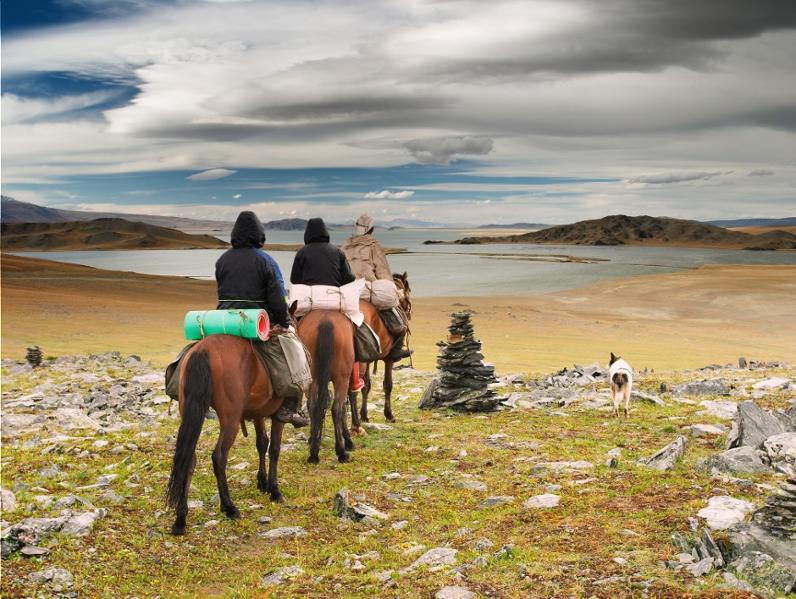 As it was said before, to discover Mongolia on horseback is not necessary to be an experienced rider. However, it is better to select the trips on horseback type "discovery" that takes place over a day or a few. So you can find the most appropriate trip for you, the best option is to ask for advice on the different levels of horse-riding required for the trips.
At Horseback Mongolia, we offer several equestrian tours adapted to the most inexperienced riders. Most trips combine several means of transportation by car, hiking, and equestrian trek to enjoy the Mongolian scenery while gradually learning to ride on the trip. If you are more attracted to the Mongolian nomadic lifestyle, you can combine horseback trekking with staying with a nomad family during your trip, or you can customize your trip according to your desires.