The young wrestler Enkhtuvshingiin Oyunbold, 22, won the national wrestling tournament during Naadam festival, thereby granting him the title of National Lion.
At 22, Enkhtuvshingiin Oyunbold is the youngest champion having won the prestigious wrestling tournament which is held every year during the Naadam Festival in Mongolia.
In addition to leaving with a Toyota Land Cruiser which he will certainly make good use of it, this honorary victory now gives him the title of National Lion, a title that is the pride of his country.
The traditional Mongolian wrestling, a prestigious national sport.
With archery and horse racing, Mongolian wrestling is one of the "three national sports" put forward during the Naadam Festival. For centuries, wrestling (or Bokh) is an inherent part of Mongolian culture and is evaluated as a full-fledged entertainment.
This strength and power discipline is the pride of the country, and everyone hopes that one day her child will become a wrestling champion.
It must be said that during the major international sporting events, Mongolia especially excels in combat sports: over 70% of Mongolia Olympic medalists are indeed wrestlers! The country has also in his list the three biggest Sumo, a Japanese specialty yet ...
The Naadam festival tournament is awaited by all!
It is during Naadam, which has been held for centuries in July, that wrestlers from across the country gather in the capital Ulaanbaatar to proudly display to the eyes of all their strength and virility, and hope to win the title of national Lion.
After years of training, more than 500 participants come to compete to Mongolian wrestling events for two days.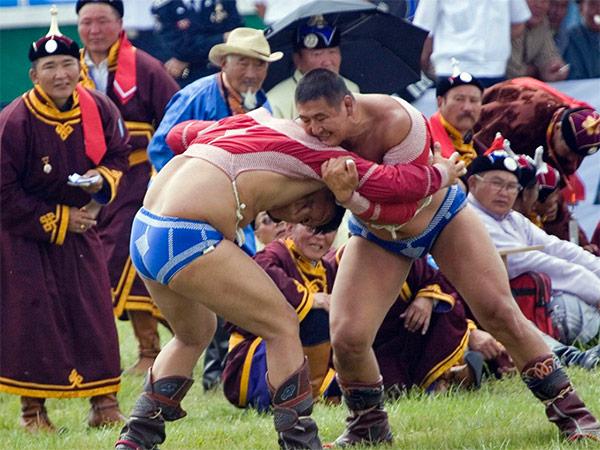 Khadbaatar MUNKHBAATAR, now 35 years old and former "National Lion" in 2007, says it is very difficult to bet on a winner. Mongolians claim that the winner will be the lucky ones. Before Naadam, it is common thing to go meditating in the mountains to implore Naadam Tenger, which could be described as god of Naadam.
For now, it's Enkhtuvshingiin Oyunbold, who thanks Naadam Tenger for having brought him luck, and relishes today one of the most prestigious titles in Mongolia... before putting it back into play next year.
If he manages to keep at least two years, it will be recognized as Titan ... We wish him luck!