Everyone knows about the nowadays "
Ice Bucket Challenge
", made famous on social medias like Facebook or Youtube. Young Mongolian people took the chance during the
Naadam Festival
to launch a great campaign to clean Mongolia, named Hog Bucket Challenge, giving the opportunity for all Mongolian people to play a part in the preservation of the country from garbages and other dirty things laying on the ground. Unless you didn't have an internet connection of access to a TV those recent months, you must have seen the Ice Bucket Challenge that was so popular in the social medias. This event and challenges throughout Internet helped in raising funds at about
100 Million Dollars
and generally spread out the knowledge about a disease called 
amyotrophic lateral sclerosis
 or
ALS
. This challenge consists of filling a big bucket of icy water and reversing onto the head of the participant, and then to nominate/challenge 3 other people to do the exact same thing, filming the all scene as the water is poured. Both a funny challenge and a great cause of awareness and donation.   Some people over Facebook in
Mongolia
had the idea of creating their own challenge
to clean Mongolia's rivers banks and natural sites that are polluted
by plastics and other types of garbages thrown by lazy people.
Before and after the challenge took place
  At the time of
Naadam Festival
, when the Mongolian athletes were busy to show their best skills at wrestling, bow and arrows or riding horses, those young activists started their own challenge. The idea is similar to the IceBucketChallenge : 3 people are nominated to fulfill the challenge and to collect up to 3 full bags of garbage or pollutants within the next 3 days and post online on social medias the good action and nominate then 3 more people. This one is called the
Hog bucket Challenge
(or
Waste Bucket Challenge
), Hog meaning "trashes" in Mongolian language. And for those who can't fulfill the challenge, they are invited to give $10 to the Mongolian dustmen as a compensation. A great number of young Mongolians decided to participate and increased the number of views on Facebook under the hashtag 
#HogBucketChallenge.
This has even been covered by the official Mongolian news site
http://www.mminfo.mn
, article been shared and liked on Facebook by more than
50 000 people
.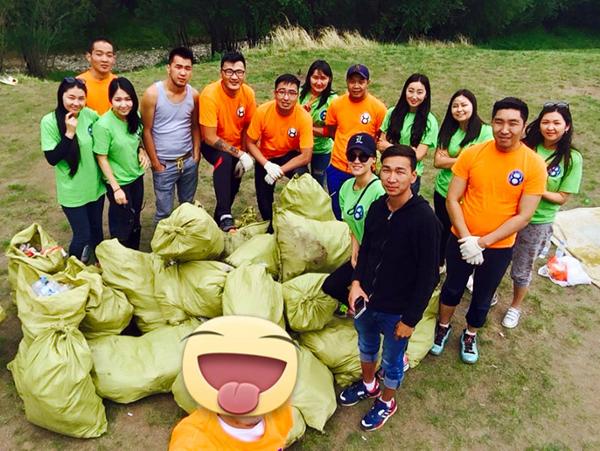 Some brave Mongolian participants
  Just like
Barack Obama
did participate the Ice Bucket Challenge the past year, some important people have been also nominated in Mongolia. In this case, a very young boy named
Tengis
nominated a close adviser of the Mongolian President, a Government spokesman and a famous event organizer to participate. And those people reacted by
participating into the great cause
, sharing their pictures online, and creating a great emotion in Mongolia!  
Horseback Mongolia
is proud to spread the knowledge of such inspirational actions, and hope these will bring more self conscience for people of
the need to preserve our lands and natural ressources
, while economic development of a country usually means destroying or polluting beautiful places.