A land of dreams and adventure, Mongolia is a must-see destination for nature lovers since it offers its visitors an unprecedented experience in the middle of a beautiful and picturesque landscape. Often known for its vast steppes and mountains, or its famous Gobi desert, Mongolia also amazes for its great lakes with crystal clear waters.
We have prepared a selection of the 12 most beautiful lakes in Mongolia, a list that will convince you that a trip to Mongolia will amaze you with its nature.
1) Lake  Khövsgöl
Located in the heart of the Khövsgöl Nature Park, Khuvsgul Lake is a true sea of altitude. An important water reserve in Mongolia, the lake alone contains 2% of the world's freshwater reserves. It stretches 136 km long, 36 km wide and records up to 267 meters deep. Its clear blue waters earned it the nickname "Mongolian Blue Pearl". A landmark of many birds and wildlife, Lake Khövsgöl is a real paradise.
2) Lake Terkhiin Tsagaan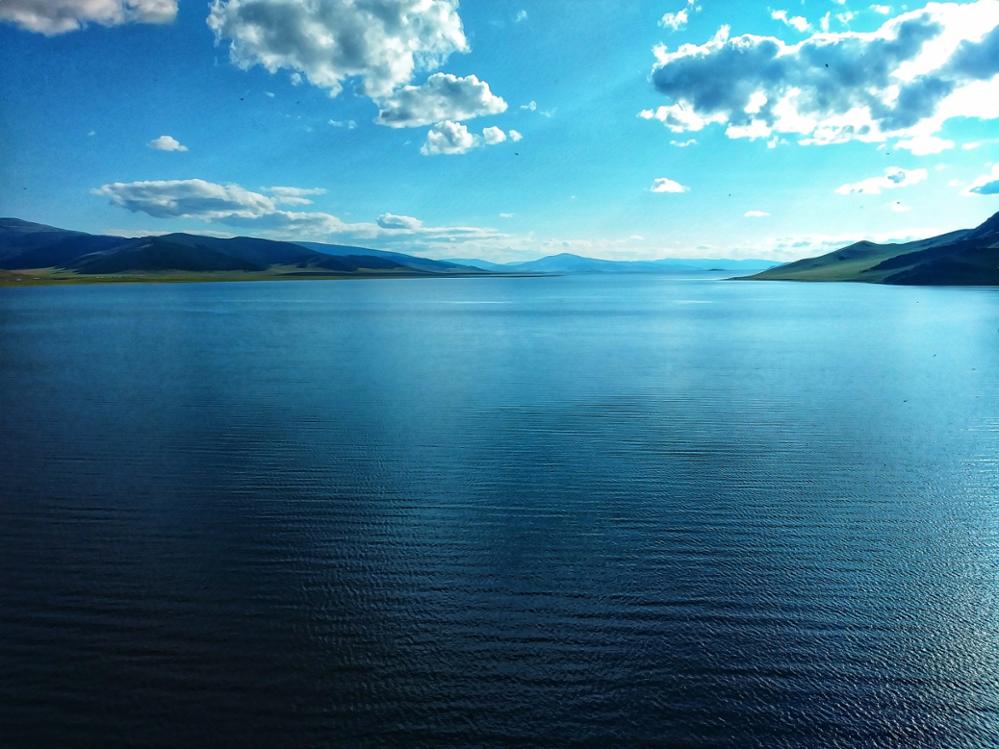 Lake Terkhiin Tsagaan is a mountain lake located at 2060 meters in the heart of the Khorgo - Terkhiin Tsagaan Nur Nature Park. A small jewel of Arkhangai, the Terkhiin Tsagaan appeared after the volcanic eruption of Mount Khorgo located east of the lake. The lake is 16 km long and 4 to 10 km wide with an average depth of 20 meters. Here, the fauna is abundant because of the still very natural character of the places. You may be able to see deer, wild boars or big cormorants on your way.
3) Lake Khar
The Lake Khar is a beautiful mountain lake that you cannot miss during your trip to Mongolia. It is located in the Khangai range at 1,980 m altitude. Surrounded by the sand dunes of Bor Khyar that extend into its waters, this turquoise blue lake is an oasis in the middle of the desert. Lake Khar is famous for being a perfect spot for fishing, which is sure to delight anglers. It is also a paradise for ornithology enthusiasts who can observe more than a dozen endemic species.
4) Shireet Lake
The largest lake in the Naiman Nuur region, which means "Eight Lakes", Shireet Lake covers an area of about 10 km² with 3.4 km in length and 1.2 km in width. Located in the park of eight lakes 35 km from the falls of the Orkhon, we propose to camp on its banks in our hike Orkhon nomads.
5) Lake Uureg
Located between the Turgen Mountains and Tsagaan Shuvuut, 100 km from Ulaangom capital of Uvs province, Uureg Lake is also one of the most beautiful lakes in Mongolia. Indeed, it is in a semi-desert region with arid vegetation that is similar to the Gobi Desert. During the winter period (October to May), the lake waters freeze, forming a block of ice that can reach a thickness between 1.2 to 1.5 m. This lake has also become a refuge for many endangered species such as the Bald Eagle, the Cycloid Goose, the Phallas Cat or the Red Fox.
6) Lake Bayan Nuur
Bayan Nuur is a beautiful mountain lake located at 1,570 m above sea level, north of Bor Khyariin Els dune. Although smaller than most other lakes in the country, the Bauan Nuur stands out for its depth of up to 50 m. In winter, its surface freezes creating a block of ice with a thickness between 1.1 and 1.3 m. Not far from the lake you will find exceptional sites like Temeen Khuzuu cliffs, Ulaan Shanaa and Serven, which hide in their lairs magnificent canyons.
7) Lake Tolbo
Among the must-see lakes during your stay in Mongolia is Lake Tolbo. This lake is located at an altitude of 2,000 m above sea level. It is 50 km south of Ölgii, in the center of Bayan-Ölgii province. The peculiarity of this lake is that it witnessed the Battle of Lake Tolbo (1921) during the Russian Civil War when the Bolsheviks allied with the Mongols defeated the army of white Russians. A commemorative plaque has been installed as a witness to the battle.
8) Lake Khurgan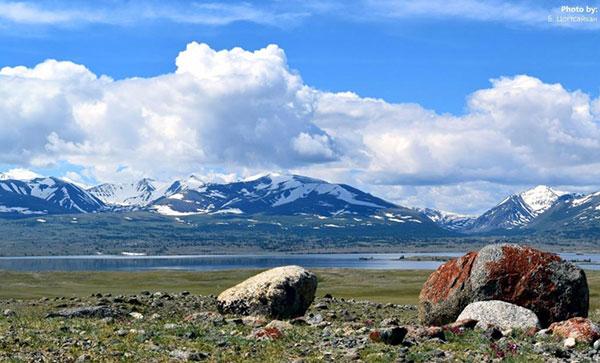 Located in the north of the Altai mountain range, Lake Khurgan offers a beautiful stretch of water 23 km long and 6 km wide. Located in altitude, it also counts among the lakes which freeze during the winter period. Set in a picturesque setting, this exceptional place offers breathtaking views of glaciers and snow-capped mountains; not to mention its twenty small emerging islands. The forests along the banks and the surrounding hills are also home to a variety of rare and endemic bird species that will delight ornithology enthusiasts.
9) Lake Khoton
Together linked to Lake Khurgan, Khoton is a beautiful mountain lake nestled at 2080 m above sea level north of the mountainous Altai. The high snow-covered peaks and moraines surrounding it alone represent an area of 1,341 km2. The lake waters freeze in the fall creating a block of ice up to 1.7 m thick. In winter, the green and gray tones of the lake contrast with this sublime winter wonderland. It is only in spring that the waters of the ice melt come to feed the lake. A dense forest runs along the edge of the lake, making the habitat of various species of birds. The lake is particularly an ideal place for fishing due to the abundance of fish present in its crystalline waters.
10) Lake Ögii
Located to the east of Arkhangai, Lake Ögii is a beautiful mountain lake at 1,337 m altitude. It is a lake full of fish and an important stopping place for migratory birds, especially those of the family Anatidae. The locals consider it a place of worship. The banks of the lake are also home to several yurt camps offering the possibility of renting canoes. As for the fishermen, they will be able to enjoy a fishing session in all tranquility, in a most spectacular setting.
11) Lake Khyargas
Lake Khyargas is one of the largest salt lakes in Mongolia. Indeed, it stretches 75 km long and 31 km wide. It rises in the smaller Lake Airag on its southern flank. This lake is part of the terrestrial ecoregion defined by the World Wide Fund for Nature (WWF). This area has also been listed as a nature reserve since the year 2000. One of the main activities around the lake is the observation of migratory birds that come to this area. Other activities can also be practiced. For example, horseback riding, camel trekking or playing local traditional games such as Shagai, the Mongol nomadic game of ossicles.
12) Lake Khukh
Or Lake Blue with black heart Located 35 km north of the main road in the Süm of Tsenkhermandal in Khentii province, Khukh nuur, better known as Blue Lake with a black heart, is a beautiful freshwater lake. Located at an altitude of 1,675 m, the region around it is home to beautiful forests where wildlife and flora are abundant. Khukh nuur is also a Mecca of Mongol history since it is here that Temuujin (the childhood name of Chinggis Khaan) received the title of "Chinggis Khaan" and was designated as "The Great Khaan of all Mongolia" in 1189.