A yurt can be quickly described as a circle tent covered with felt and with a white waterproof hard-wearing hessian. The Mongolian yurt is composed of two essential elements: the wooden structure, and the felt cover. The surrounding wooden structure is called "khana", and the central crowd through which smoke is evacuated is the "toono". Eighty eight wooden laths ("hunnu") measuring about 1,5 meter complete the wooden structure forming the ceiling, and the two central columns ("bagana") support the whole.
The toono is the central crowd of the roof, the only part of the yurt that is not covered and through which the smokestack passes.
It's supported by the two central columns. The 88 wooden laths are fixed to it and go towards the walls.
We finally can link the toono to the walls thanks to the 88 uni.
When the five walls and the door are settled, they get tied with cords ("ujas").
Once the frame is erected, it's covered with felt and put on a wooden floor or directly on the soil. The door always faces South in order to make more light enter.
The roof wooden frame is covered with a first cover called "dotuu burees" made with white cotton.
Then the different sections of felt are put on it. The Mongolian felt is very waterproof and dries very quickly.
Nomads make their own felt. In spring, they shear sheep that still have their winter hair. Tangled hair is placed on a tarp on the bare ground and gets beat, detangled, and sprayed with water. Then the tarp is closed and the packet is fastened to an axle tracted by a horse. A few hours later, felt is ready.
Felt slabs get sewn together to obtain the sections that will be used for covering the yurt; seven sections are necessary, three for the roof, four for the walls. 
At the end, the felt is covered with a waterproof hessian or a synthetic cover called "brezent".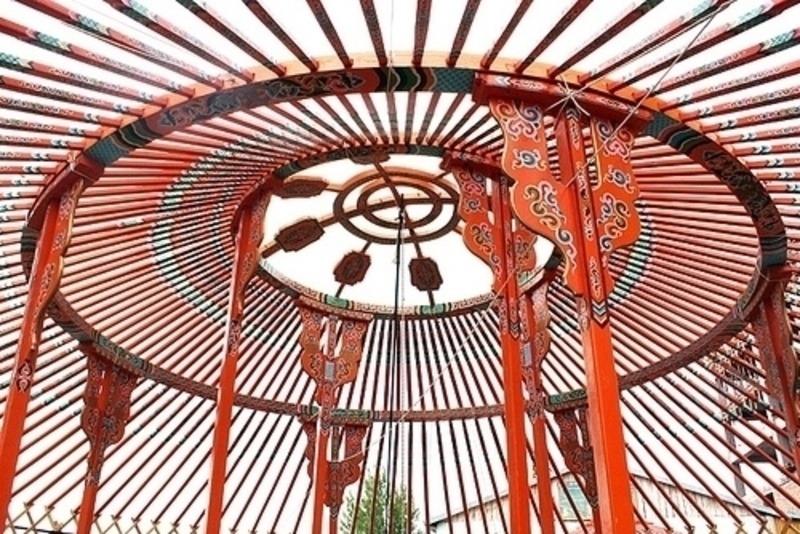 The family yurt is put up... Until the next migration!